Recently, Edge Digital undertook a process they are not too fond of: change. We said goodbye to our much loved internal messaging system Slack and ventured to try something new- 'Microsoft Teams'. This wild adventure for Edge did not last long. One month and six days, to be approximate.
As an appreciation post to Slack, we want to describe to you why Teams didn't push the button for us.
The only button we were pressing was the uninstall button.
Notifications
"Why did you ignore my message?" "What Message?"
This became a frequent exchange of words in the office. In a 'Teams Group' unless your message to somebody includes '@' and their name, it will not notify the other person.
Want to reply to somebody? This is also seemingly difficult apparently, as there are varied ways to reply to a message, which if done wrong can mean you're replying to that person in a group chat rather than in a private message.
Contrast: Slack notifies you regardless of whether you are tagged in the message and regardless of whether it is in a group or direct message. On desktop the icon will also flash if you have an unread message.
Speed
Wanting to switch between groups and chat conversations frequently?  This could take you some time.
Updating took a long time, as did files. By the time files had actually uploaded, we probably could have printed and posted the document or image to the other team members home address!
Not that there is much point uploading anything anyway, as you won't be able to search your conversation to understand the context of this upload ever again. (More on this later).
Frustration was the key emotion by this point.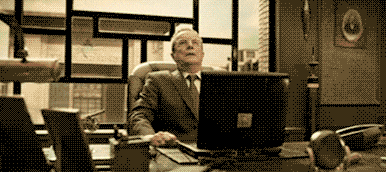 Contrast: Rather than having to switch between groups and chats in Teams, everything is all in one sidebar in Slack and switching between conversations is instant.
New Messages
Apparently knowing who has sent you a message and what they said also isn't a priority, as notifications on mobile will just tell you 'New Message.' Helpful.
Nobody wants a screen full of notifications that they can't even access immediately or understand from the offset.
Contrast: Notifications on desktop mirror notifications on mobile- the username and content of the message will be included in the notification, and they come through quickly.
Searching
Talking to yourself is not socially acceptable on Teams, as chats with yourself to act as a notes page is not an option. You are also forced to remember anything you've ever said as there is no function to search through conversations.
Contrast: Slack does not make you frantically scroll through a conversation to find passwords, addresses and information shared as you can effortlessly search a group due to the inbuilt search feature.
Spending two hours scrolling up through a conversation? No thanks.
User Experience
Navigating Teams is just not fun. The set up takes time, and the build is not aesthetically pleasing either.
Files uploaded in Teams go into their own jumbled section which will contain files from numerous conversations and contexts.
Contrast: Instant file uploading to a specific conversation or channel will stay exactly where you uploaded it and will be easily located in the future.
Reunion
The day it was announced we were returning to Slack and leaving Teams for good, felt like finally returning home.
In all seriousness, we really couldn't recommend Slack enough. It's the sleekest, neatest and fastest internal communication tool. Microsoft, you're great, but you should stick to what you do best. Which isn't chat messaging systems, sorry.
It is very true that you don't appreciate what you have until it is gone.